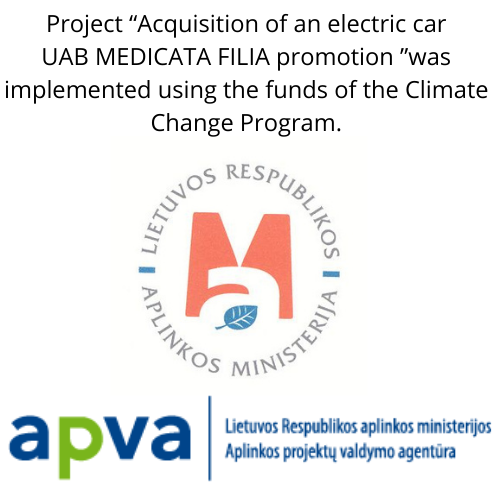 Name of the applicant: UAB "MEDICATA FILIA"
PROJECT Promotion of the purchase of an electric car by UAB MEDICATA FILIA
PROJECT IMPLEMENTED USING CLIMATE CHANGE PROGRAM
Employees of the company spend a lot of time in the car aptarn servicing pharmacies, other points of sale, working with beekeepers to buy bee products, going to beekeepers and other groups to share information about the importance of bee products in maintaining human or beloved health.
Working directly with natural, naturally created bee products and herbs is a huge dissonance during the journey to leave the air stinking and unhealthy for nature and people after the burned car fuel. – "One hand" encourages us to be healthy, and "one hand" directly harms the idea.
An excellent measure of the Lithuanian government is to encourage the conversion of polluting vehicles into ecological ones – cars that use one of the cleanest fuels – electricity. At best, the electricity used would be maximally green. To this end, the Company plans to install a solar power plant in 2022, which will contribute to state-initiated green energy production. In the future, Medicata Filia plans to replace all the vehicles used in the company with greener ones and to produce green fuel for those vehicles – green electricity. The first step has been taken to replace the diesel-powered Citroen C3 with a fully electric Nissan Leaf. We are waiting for further steps towards the production and use of green energy.